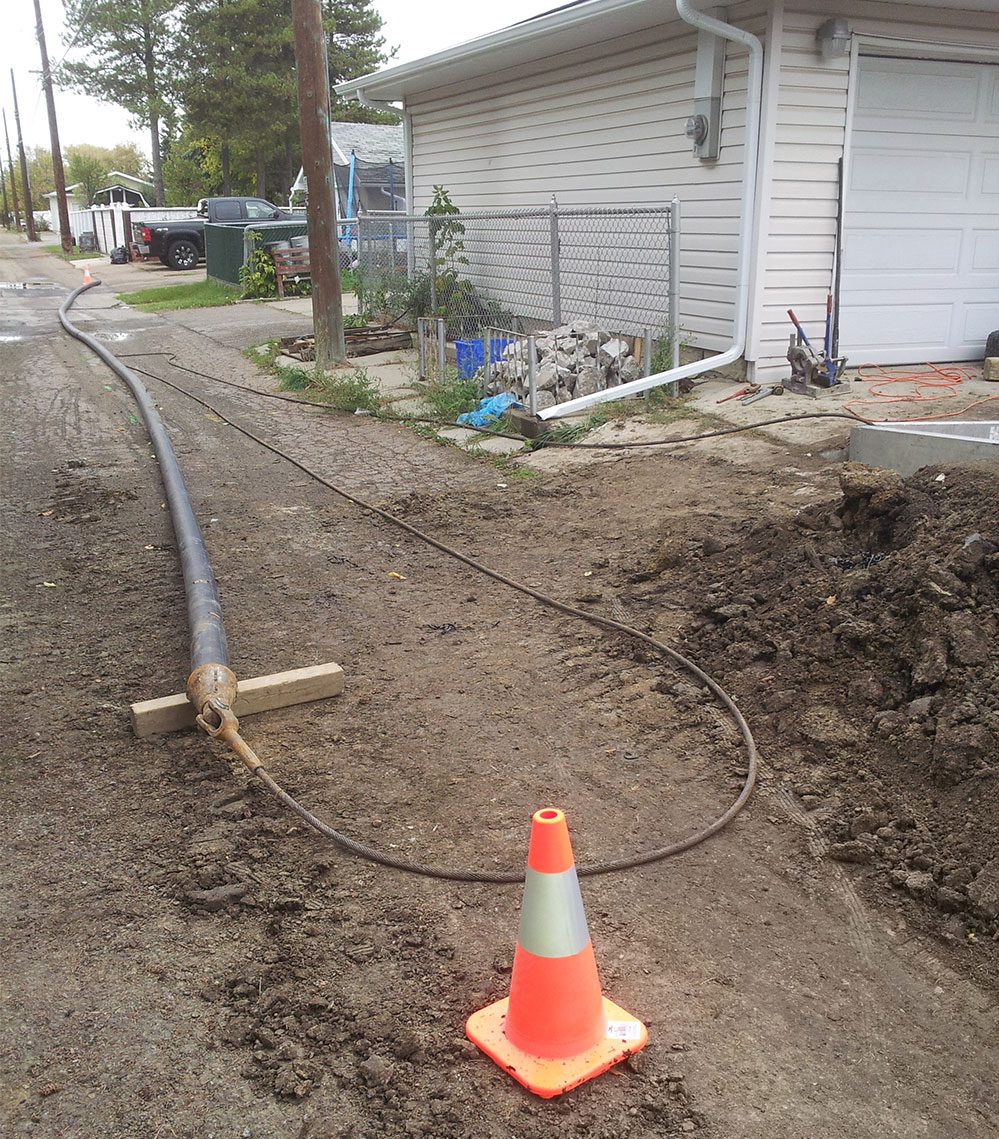 Oh No! A Damaged Drain Line!
A clogged drain pipe, burst pipe, collapsed drain pipe or damaged drain line that causes a backup in the basement is, well….a drain. It's a drain on your finances, time and patience. A damaged or collapsed drain needs immediate attention – but before you pick up the phone and call for an expensive, disruptive drain repair, check out our trenchless drain replacement.
How Does it Work?
First we assess your site to see if drain bursting is an option. If so, we make two small excavations, approximately 4' x 4'. The first is at the city property line and the other is in the basement or at the home's exterior foundation. A high quality, seamless four-inch high-density polyethylene pipe is then pulled in, replacing the old pipe with a new pipe of equal size.
Lead Waterline Replacement
If you have a lead waterline and need it replaced you've come to the right place. The system process is the same as a burst we just pull in a new copper waterline instead. We can even pull in a new waterline and a new drain at the same time.
Why use Trenchless Pipe Replacement?
Pipe problems can be the start of even bigger problems. You don't know if your drain pipe has been infiltrated with tree roots, clogged by debris, or collapsed. In fact, you may never know you have serious pipe problems until your sinks are gurgling, basement is flooded and your toilet is overflowing. Typical broken drain repair includes digging up the pipe, or trenching. Trenching can mean removing your deck or patio, damaging your garage, and destroying your landscaping – all of which adds thousands of dollars to the repair bill.
There is a much better way. Our trenchless pipe replacement leaves your yard intact and can correct piping that has failed due to tree root penetration, collapses, debris damming and more.
Save time, money and headaches with our trenchless pipe replacement and excellent customer service. Don't let your drain be a drain on your wallet or destroy your beautiful yard. Call us today.